I am what I am……..
Mama nak Boost tak, Ika belanja….
Rupa-rupanya 'Boost' yang selalu disebut oleh Ika ialah salah satu minuman yang berkhasiat. Pertama kali merasai Boost Juice ini semasa bershopping dengan Ika di Times Square , Kuala Lumpur dua bulan yang lepas. Produk minuman kesihatan ini juga sudah lama bertapak di Malaysia. Boost Juice Bars merupakan perniagaan francais. Ini telah membuktikan budak-budak zaman sekarang lebih pandai dan lebih tahu dengan kehadiran produk-produk baru seperti ini. Dengan zaman berteknologi moden, persaingan hebat daripada bermacam jenis jenama minuman berkhasiat dan cara pemikiran Generasi Y masakini, Dr. Soraya R. Ramli yang memperkenalkan produk minuman berkhasiat ini Malaysia, Singapura dan Brunei dengan beraninya tanpa menoleh kiri dan kanan.
Boost Juice Bars amat bersesuaian dengan gaya hidup sihat masyarakat Malaysia. Ini adalah kerana masyarakat Malaysia sekarang lebih mementingkan kesihatan yang ideal dan mudah. Ingin ketahui apa itu 'gaya hidup sihat'?
'Gaya hidup sihat merupakan suatu amalan kehidupan yang membina dimana ia dapat membawa kesan yang positif kepada seseorang individu , institusi keluarga dan juga masyarakat. Juga merupakan salah satu aspek yang penting dalam menjaga tahap kesihatan seseorang. Antara contoh amalan gaya hidup sihat ialah seperti makanan yang seimbang, aktiviti senaman, tidur atau rehat yang mencukupi, cara pergaulan dengan manusia di sekeliling, kebersihan dari segi mental, fizikal dan persekitaraan. Kesemua amalan gaya hidup yang positif ini membawa kepada banyak manfaat dan kebahagian kepada kehidupan kita'. Selari dengan falsafah Boost, 'Sayangi Hidup & Kekal Sihat'.
Perkenalan Pertama Mamable dengan Boost Juice Bars (Boost)
Boost Juice Bars (Boost) khusus menyajikan minuman berasaskan buah-buahan. Menu yang disediakan adalah dengan bantuan pemakanan, 98 peratus bebas lemak, tanpa gula tambahan dan bebas perisa tiruan atau pewarna.
Apa yang menarik mengenai Boost Juice Bars ini ialah semua jus dan smoothie sekurang-kurangnya 98% bebas lemak, tidak menggunakan perisa tambahan, bahan awet, pewarna dan tiada gula atau air. Bukan sahaja minuman ini berkhasiat malahan juga rasanya yang sedap dan segar. Selain itu, minuman ini hanya menggunakan buah-buahan terbaik seperti lobak merah Australia dan bukannya lobak merah China yang rendah mutunya dan semua smoothie mengandungi yogurt TD4 yang dipaten dan diimport dari Australia. Ia mengandungi kultur hidup yang baik dan amat sesuai untuk penghadaman.
Kita juga boleh menikmati pilihan jus-jus tempatan pada harga yang lebih rendah jika mereka menghasilkan campuran jus sendiri menggunakan buah-buahan tempatan seperti tembikai. Juga terdapat pilihan makanan Boost Food seperti wrap berkhasiat dan sandwich, buah-buahan potong yang segar, juga snek seperti Wonder Bar, Roti Pisang dan Kek Lobak yang rendah lemak.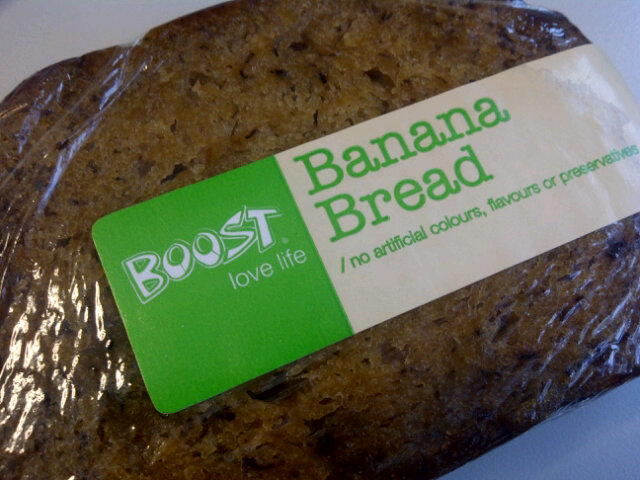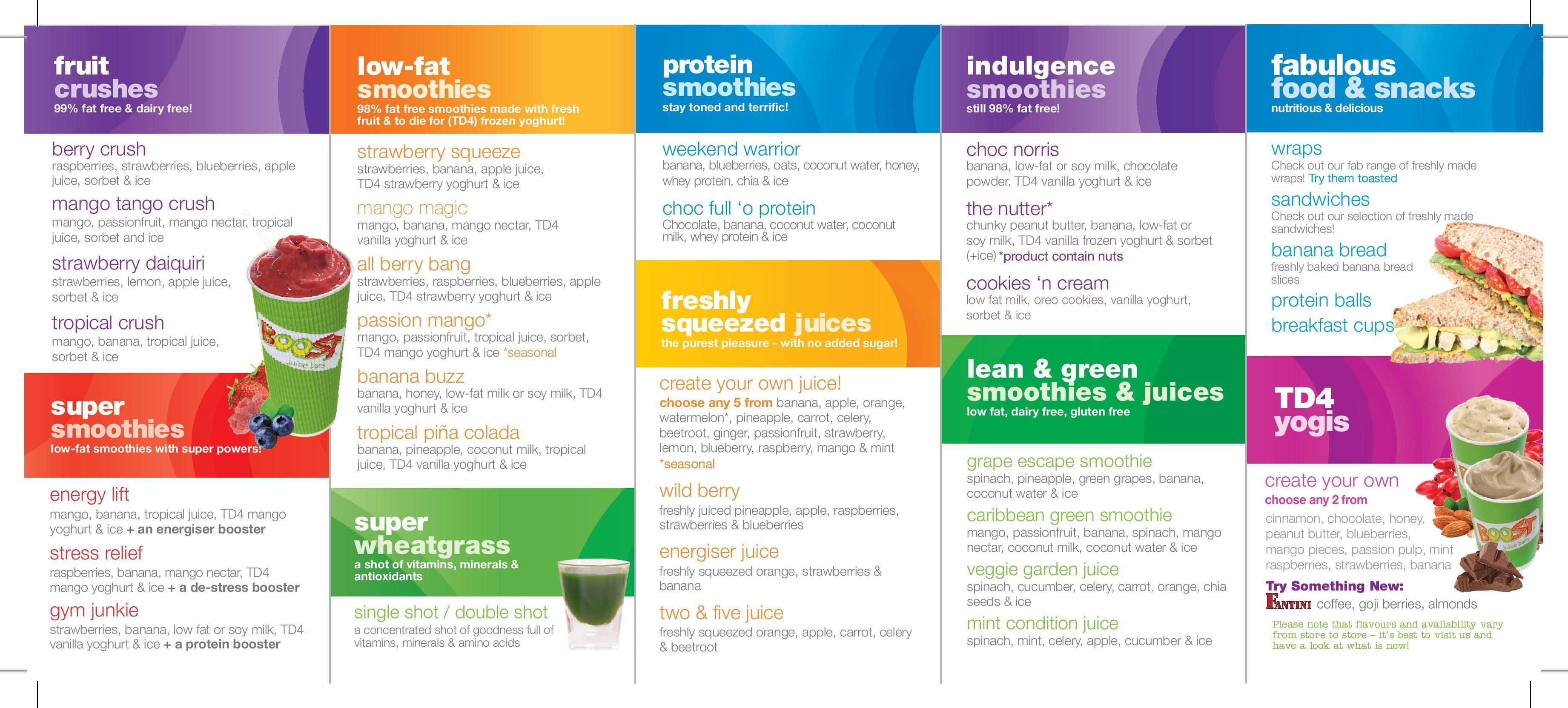 Boost Juice Bars Yang Popular Dikalangan Rakyat Malaysia 
.
Boost Juice Bars – Our promise to you
Make fresh and nutritious juices and smoothies that taste great. Only ever use the very best quality ingredients. never use any nasties. Be on the lookout for new ways to make being healthy easy. Always deliver amazingly friendly service. Give you a reason to smile.
 boostjuicebars.com.my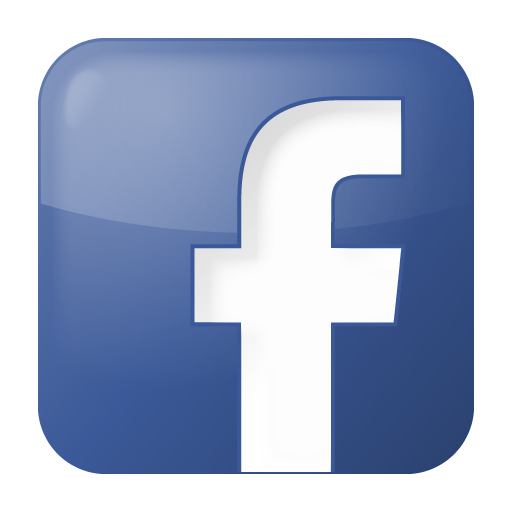 boostmalaysia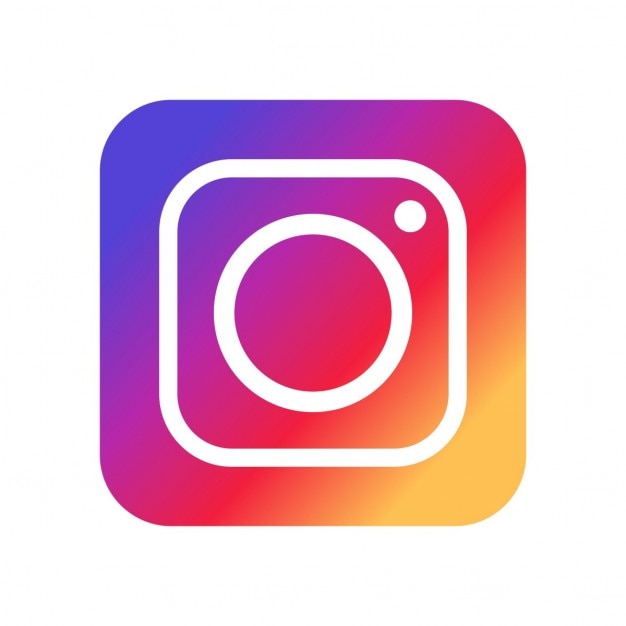 myboostjuice